Fenz-on is the award winning device that lets you control any mains electric fence with your mobile phone.
The Fenz-on electric fence management system is easy to install and very easy to use with any electric fence and any mobile phone. The Fenz-on unit won the Innovation Award at The National Dairy Show and is a versatile product that is not limited to controlling electric fences. It can also be used to control devices such as home heating and security lighting.
Fenz-on was invented in 2010 to be a simple way of turning on and off your electric fence when you are not near to the power source. Whether you be moving livestock or need to carry out maintenance on your fence a simple phone call will turn on or off the power running through your fence. This saves time by cutting out trips back and forth to your farmyard or to your nearest isolator.
Fenz-on is ready to use out of the box and very easy to set up. Fenz-on will work with any electric fence and is set up as shown in the picture below.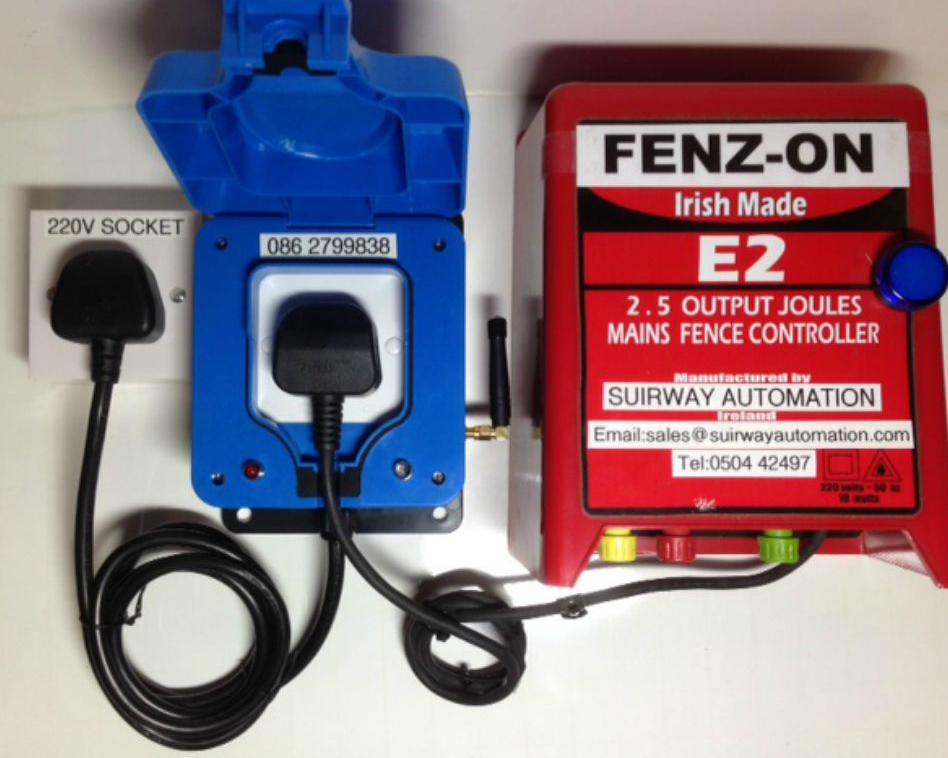 How to use Fenz-on to manage your electric fence
1. This unit is pre-programmed and is a ready to go with PLUG and PLAY set up.
2.  Plug in unit where electric fencer was originally plugged in and plug in fencer in socket
provided on front face of GSM unit.
3. When you first plug in the GSM unit, you should have a red power on LED to indicate that unit
is ON.
4. On the opposite side you will see a blue network LED flash randomly to indicate unit is
searching for local network provider.
5. Allow a minute or two and you should see blue network LED flash every 4 seconds
consistently which indicates unit is connected to a network.
6. The unit is now ready.
7.  Call the GSM unit with your mobile to turn ON or OFF the Electric fencer.
8. To receive confirmation text to let you know that GSM unit is ON or OFF, send the following
texts to the unit No. First text  *0*1234# wait for reply and send second text  *22*1#
wait for a reply and now ring unit and you will receive confirmation text UNIT ON or UNIT OFF.
Note: you will have to top up SIM with credit to carry on receiving confirmation texts
9. To cancel confirmation texts send the following texts to the unit,
first text *0*1234# wait for reply and send second text *22*0#
10. This GSM unit will operate with ANY network ANY electric fencer and ANY mobile phone.